Medical Weight Loss
Experience the Empire Medical difference by using our medical weight loss services.
Taking every measure to lose weight with few results to show for it can be stressful and frustrating. You could be doing everything right to get back on track to a healthier lifestyle, but you might need a little added help. That's where the Empire Medical team comes in.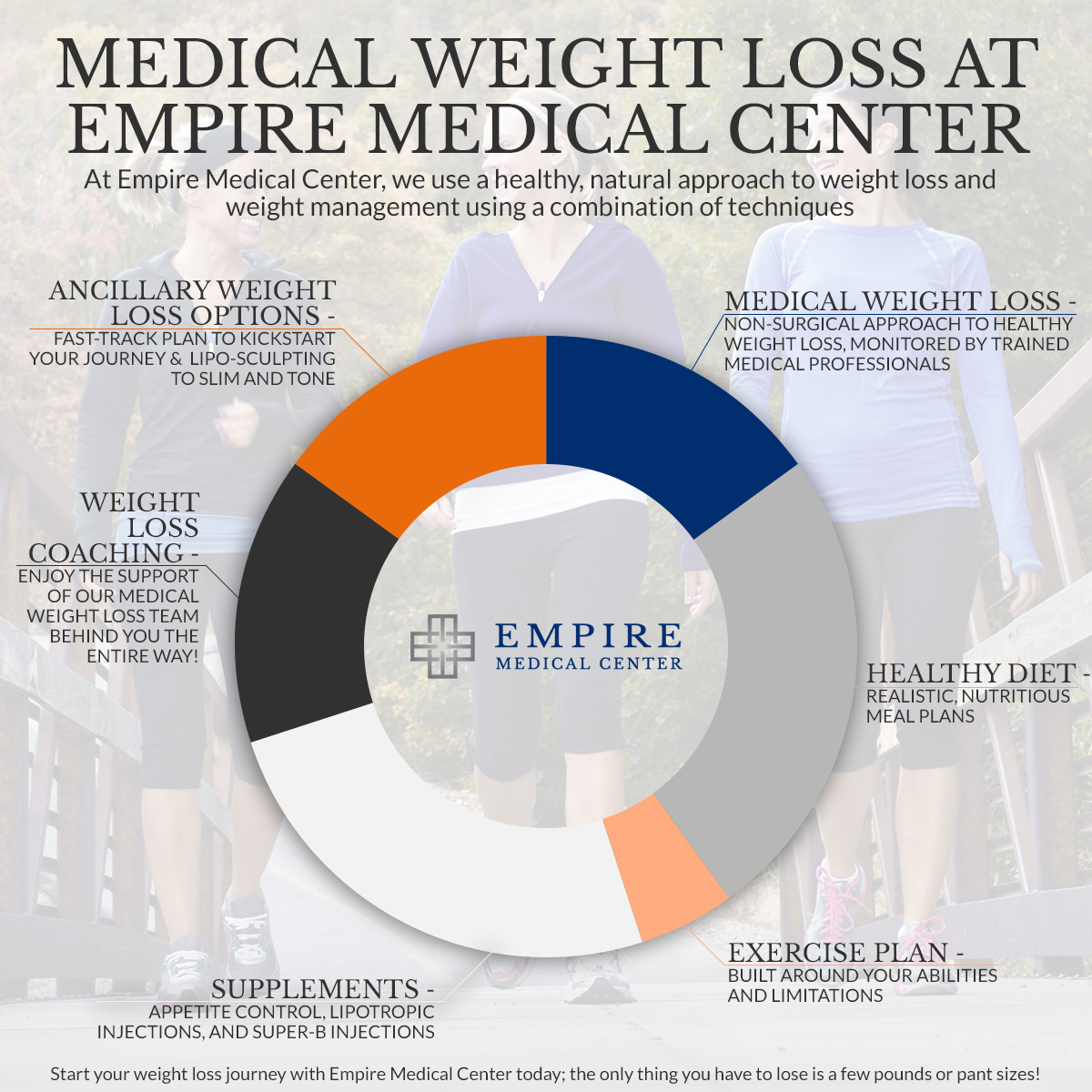 Medical weight loss is not surgery or diet pills, rather it is medically assisted weight management that targets the root cause of weight gain and difficult weight loss. Medical providers create safe weight loss plans and monitor your weight loss progress. Medical weight loss programs can help those who struggle to lose even 10 pounds, lose whatever extra weight they are carrying around. That's where the Empire Medical team comes in.
We provide a focused weight loss plan that incorporates a nutritious, low-calorie diet and exercise plan with advanced medical supplements and techniques. As a part of our weight loss program, our medical professionals prescribe a combination of supplements and FDA-approved medications.* Our doctors closely monitor your progress through a series of food sensitivity and behavioral testing, measuring metabolism levels, and a variety of other tests. Our medical professionals will conduct a thorough medical evaluation prior to building your program and will continue to monitor progress. We make adjustments as necessary to help get you to your ideal weight as soon as possible. Our medical weight loss program includes:
Tailored to closely accompany your lifestyle, we strive to make our weight loss plans not only something that will help you achieve your ideal weight but something that you can stay committed to in the long term — a healthy lifestyle change.

To find out if you are a candidate for our medical weight loss program, call our Victorville office today and schedule an appointment with one of our knowledgeable medical professionals.
---
The process of medical weight loss isn't a single-action solution. At Empire Medical Center, we use a combination of techniques to help promote the healthiest weight loss approach and ensure success.

Weight-Loss Supplements
One of the biggest changes that we encourage to help assist you in your weight loss efforts is the use of weight-loss supplements. Weight-loss supplements are great for helping to boost your body's natural processes by providing the nutrients that may be lacking, causing you to feel fatigued. Supplements are just that, they supplement a healthy diet to give your nutrition the extra kick you need.
Appetite Suppressants
One of the biggest challenges that a person faces is hunger and resisting the urge to overeat. Some common causes of overeating are stress and guilt, things that are hard to avoid in a busy life. Appetite suppressants address the source of the overeating in the brain's hunger control center. Not only do appetite suppressants help to make you feel more satisfied and prevent overeating, they also help you feel more motivated to continue to eat healthy and promote effective weight loss.
At Empire Medical Center, we recommend safe appetite suppressants that help our clients feel more satisfied and content with their nutrition plan and allows them to quickly shed weight they have struggled to lose.
Lipotropic Injections
Lipotropic injections are a great tool that is used to replace essential nutrients that may be missing from your diet, causing fatigue and hunger. Lipo injections contain many essential elements that are pivotal in supporting your metabolism and energy levels. The ingredients in lipotropic injections play an important role in the body's ability to burn fat and shed unwanted pounds. Additionally, lipotropic injections help keep your energy levels up, which helps prevent burnout and allows you to easily continue your healthy lifestyle journey.
Super-B Injections
Super-B injections are vitamin shots that are packed full of Vitamin b-12, a key player in your ability to lose weight. B12 plays a role in keeping energy levels up and stimulating your body to convert carbohydrates into fuel and energy, rather than storing it as fat. Vitamin B12 helps to elevate mood, support the immune system, increase concentration, and increase energy and metabolism. All of those features help you lose weight and stay motivated to continue on your health journey.
At Empire Medical Center, we offer Vitamin b12 in the form of Super-B injections as a solution to a Vitamin B12 deficiency. Super-B injections contain Vitamin B12 in addition to some other powerful vitamins, that all help to aid the weight loss process.
Healthy Diet
Once your vitamin and essential nutrients have been addressed with supplements, the next biggest contributor to your weight-loss success is consuming a healthy diet. A healthy diet needs to be realistic as well as nutritious. You cannot simply eat raw salad and count on losing all the weight you want. As humans, our bodies need fuel just to live and we need to consume foods that we enjoy to stay on track. As part of establishing a healthy diet through medical weight loss, you and your weight loss coach will evaluate your current diet to find out where your strengths and weaknesses are. Including restrictions and preferences, you will create a sustainable meal plan that includes nutritious foods, snacks, and beverages. As you progress, your diet will be reassessed and modifications may be made based on what is working and what could be better optimized.
Weight- Loss Coaching
Weight-loss coaching is a big part of the weight loss program at Empire Medical Center. Without support and coaching, it is difficult for those who struggle to lose weight to continue on their journey. Weight loss coaches provide ongoing support to clients and help modify any portion of the program that isn't working optimally. When you work the medical weight loss program at Empire Medical Center, you'll have the support of a team behind you the entire way!
Exercise
Exercise is an important element to the weight loss journey but is not as important as all of the other elements we have discussed. Exercise is critical to maintaining a properly performing body, but excessive weight-loss is not the answer to shedding weight. As part of the medical weight loss program at Empire Medical Center, we help our clients understand safe and effective workouts that will support weight-loss and prevent injury. We can also help create a workout plan that works with the physical limitations a client may have.
Ancillary Weight Loss Options
For some people, modifying diet, including exercise, and getting the benefits of supplements are all still not enough to get rid of unwanted weight. To help, Empire Medical Center offers several ancillary weight loss options to help kickstart and accelerate the weight loss journey.
Fast-Track Plan
Our Fast-Track Weight Loss plan is meant to be the kickstart or boost that you need to kick your mind and body into gear. Our three-step fast-track plan is designed to help you lose your first 30 pounds in just 30 days. In these 30 days, you will be armed with all of the tools you need to continue your weight loss journey, successfully. The real results that you see quickly will help to motivate you that change is possible and that stubborn weight you've been carrying around doesn't have to be a permanent part of your person. At the end of the 30 days, your weight loss coach will help you modify goals and develop plans that will help you reach them.
Lipo-Sculpting
Empire Medical Center is proud to offer Lipo-Light Advanced Slimming and Toning Program to help our clients naturally slim, shape, and tone any part of their bodies. While you are getting started with all of our other weight-loss options, you can kickstart your efforts with the painless lipo-sculpting procedure. Lipo-light is ideal for anyone and helps you to get instant results that will help encourage you to stick to the medical weight loss program to accelerate results.
To take advantage of all of the elements of our medical weight loss program, contact the weight-loss specialists at Empire Medical Center today!