Fast-Track Weight Loss
Launch Your Weight Loss Journey By Unlocking Your Potential
Have you tried dieting and following along to a group exercise routine that leaves you feel defeated only to yield no weight loss results? You are not alone! More than a third of the American population struggles with extra weight and at any given moment there are millions of people on restrictive diets that result in a severe nutrient deficiency, calorie and energy deficit and rebound weight gain. Don't get stuck in the never-ending cycle, launch your weight loss journey the right way!
At Empire Medical Center, our dedicated weight loss staff helps you kickstart your weight loss with a powerful 30-day Fast Track plan. The Fast Track Weight Loss Program helps you to rapidly drop weight while teaching you sustainable nutrition and exercise habits that will carry you to your end goal. You really can lose up to one pound each day for 30 days — that's 30 pounds in just a month.
That month will pass by regardless of what you do, you have nothing to lose except the weight!
Fast Track to Weight Loss
Utilizing advanced and proven weight loss techniques, our weight loss program at Empire Medical Center puts our patients directly on the "fast track" to achieving their weight loss goals.
By combining healthy eating habits and regular exercise with prescription weight loss medication, Empire Medical Center's Fast Track program ensures an innovative solution to tackling even the most stubborn weight problems.
Making realistic, attainable adjustments to current everyday habits, where necessary, the Empire Medical team tailors weight loss plans to their patients, making achieving their weight loss goals possible. Losing weight with no success is frustrating, and feeling like your weight loss plan wasn't made just for you only adds to the frustration. Just like your jeans, there is no "one size fits all" plan.
We strive to make the process as simple as possible to get you the weight loss results you desire, quickly.
Lose up to 1 pound a day!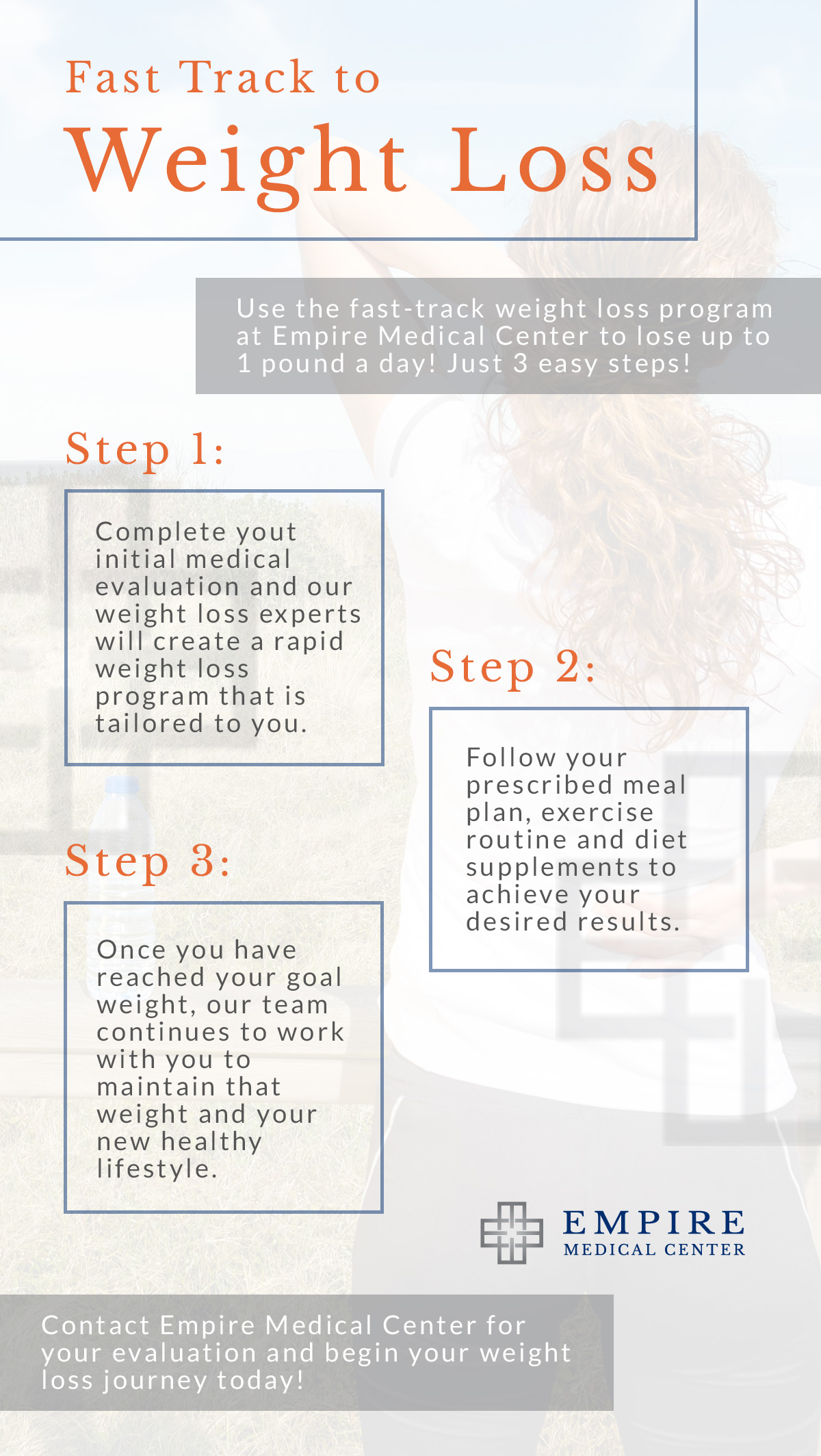 To ease the weight loss process and give you peace of mind in knowing, confidently, that you can succeed, we have broken the entire weight loss program into three simple steps.

Step 1: Once you complete your initial medical evaluation, our team of weight loss experts creates a medically supervised diet, exercise, and medication plan that promotes rapid weight loss (often, up to one pound per day), based on your current status and your goals. Based on the scientific protocol of the "pounds and inches away" diet, our formula is comprised of a high-nutrient, low-calorie diet that is supplemented by medical aids that can only be prescribed by one of our medical professionals at Empire Medical.

Step 2: We develop a healthy, nutritious eating plan just for you. The Empire Medical team always works with your unique needs in mind including preferences and dietary restrictions. After all, if a meal plan is chock full of things you don't like or can't eat, you can not be successful. Because you can't out-exercise a poor diet, a main focal point is your intake. 
Step 3: Once you've achieved your goal weight, our team continues to work with you to develop healthy eating habits and a consistent exercising schedule that you can stay committed to in order to maintain that weight. If you experience weight gain or decide to reach a new weight loss goal, we can modify your plan.
Kick Start Your Weight Loss Journey, Start Now!
Benefits of Fast Track Weight Loss Program at Empire Medical Center
At Empire Medical Center, we do not set arbitrary dates with unattainable goals. We set realistic goals and provide you with all the tools that you need to achieve them. There are so many benefits to the program, but here are some of the best benefits.
Energy Boost!
You read it correctly — an energy boost! Far too many weight loss programs rely on keeping patients in a severe calorie deficit by restricting intake and requiring excessive amounts of exercise. At Empire Medical Center, our Fast Track Weight Loss Program relies on healthy eating and portion control as well as ensuring a balance of vitamins and nutrients. Where you may be lacking naturally and in your intake, we can provide in supplements. Our Super-B injections offer you all of the energy-boosting vitamin B complexes you need to maintain energy levels that allow you to carry on with your life and stay motivated to stick with the program.
Support Network
Your dedicated team of medical professionals and weight loss coaches will be with you every step of the program to offer you feedback and ensure the program is working. If you identify problem areas or hit a plateau, your Empire Medical Center support team will work with you to modify the program to get the best results for you. And, they provide encouraging motivation to help you keep on course and find the results you're hoping for.
Rapid Results
Perhaps the best, and most motivating, part about the Fast Track Weight Loss Program at Empire Medical Center is the quick results. Whereas most programs take upward of 8 weeks before you see results, you will feel results in just a few days and see them within two weeks. By the end of the 30-day program, others will notice the difference. This rapid, positive change is what most people need to launch their weight loss journey and keep them motivated to reach their goals.
If you are frustrated with your current weight loss plan, make a positive difference in your life and contact the team at Empire Medical Center. We have clinics in Victorville, Barstow and Apple Valley. If you live in the San Bernardino area, contact us to schedule your evaluation and get started on your weight loss journey today!
---
Our scientifically proven weight loss plan is backed by medical professionals and yields a 90 percent success rate! Call us now to learn more about the Empire Medical Fast-Track weight loss program or to schedule an appointment with one of our knowledgeable medical professionals.